The closures scheduled for Monday morning (3/2) aren't of the wholesale, destroy your life variety, but significant enough to mystify some commuters during their daily trip to the shop. So without further delay, let's check out what's happening in a neighborhood near you.
Remember, start and stop dates are all weather permitting.
LYNHURST DR. IS CLOSING
On the west side, S. Lynhurst Dr. is closing between Sam Jones Expw. and Troy Ave. this Monday (3/2) and will remain closed until mid-October. Crews will rehabilitate the bridge over Mars Creek, which includes widening the bridge and adding new sidewalks.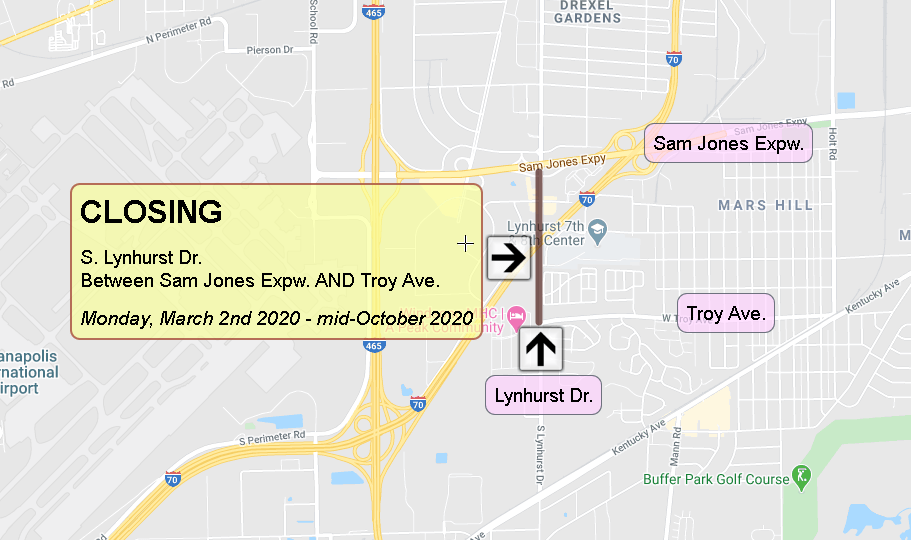 The posted detour:
Northbound traffic will go east on Troy Ave. to Holt Rd., north on Holt to Sam Jones Expw, then west to Lynhurst Dr.
Southbound traffic will go east on Sam Jones Expw. east to Holt Rd., south to Troy Ave. then west to Lynhurst Dr.
---
SHERMAN DR. WILL CLOSE SOMETIME
For south siders, S. Sherman Dr. at Thompson Rd. will shutdown this Monday through Friday (3/2 – 3/6) from 8am to 4pm only. This will allow for utility maintenance in preparation of roundabout construction later this year.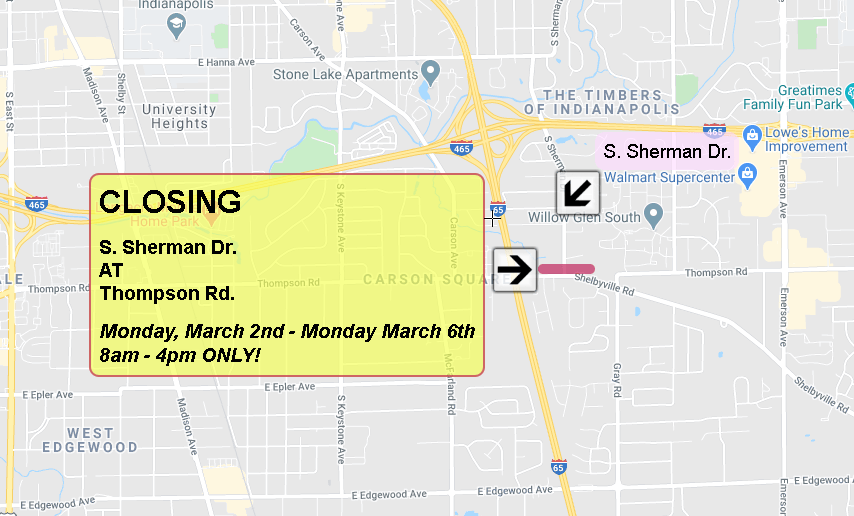 The posted detour:
Southbound traffic will go east on Redfern Dr. to Ninth Ave.,  south on Ninth to Thompson Rd., west on Thompson to Gray Rd., then  south to Shelbyville Rd.
Northbound traffic will go east on Thompson Rd. to Shelbyville Road, north on Gray Rd. to Thompson Rd., north on Ninth Ave. to Redfern Dr., then west to Sherman Dr.
KESSLER BLD. HAS REOPENED, BUT NOT FOR LONG
Kessler Blvd. W. Dr. in the Crows Nest neighborhood closed last week from west of Spring Mill Rd. to east of Crows Nest Dr. (or Sunset Ln. to Sunset Ln. for the locals). DPW crews were working on the trench drains, and it looks like they'll have to come back.
For now, Kessler has reopened, but there is more work heading this way in mid -to late-March. We'll know more soon.
U.S. 52 CLOSING
This is a big one.
U.S. 52 will close on the west side of New Palestine from this Monday (3/2) so Indiana Department of Transportation (INDOT) crews can replace the bridge over W. Little Sugar Creek. The closure will last around 120 days, or until early July.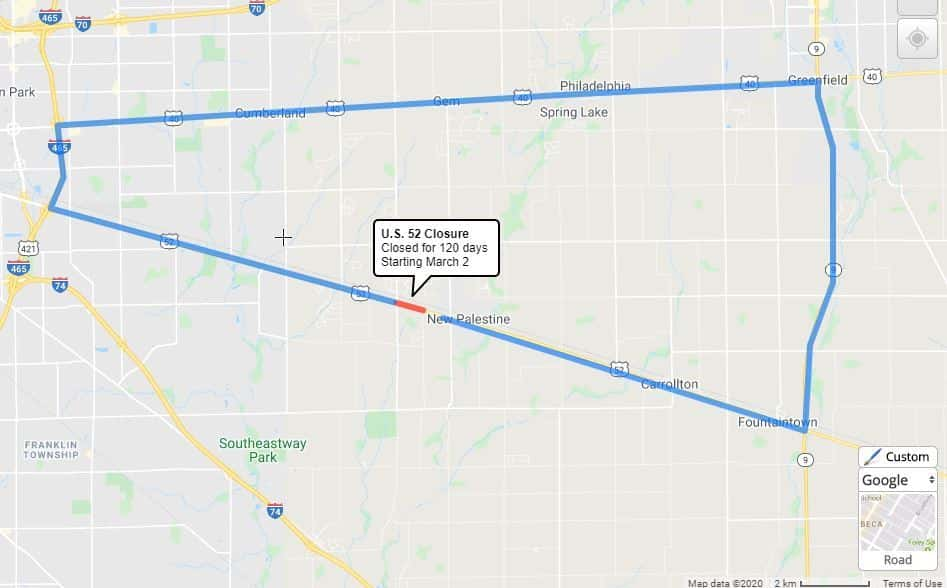 (Photo Credit: INDOT)
The official INDOT detour:
If you're heading east from Indy, take northbound I-465 to eastbound U.S. 40, then southbound S.R. 9 SB back to U.S. 52.
However, that'll force you to skip the entire city of New Pal, and a trip to the Frosty Boy. You don't want that.
How about this?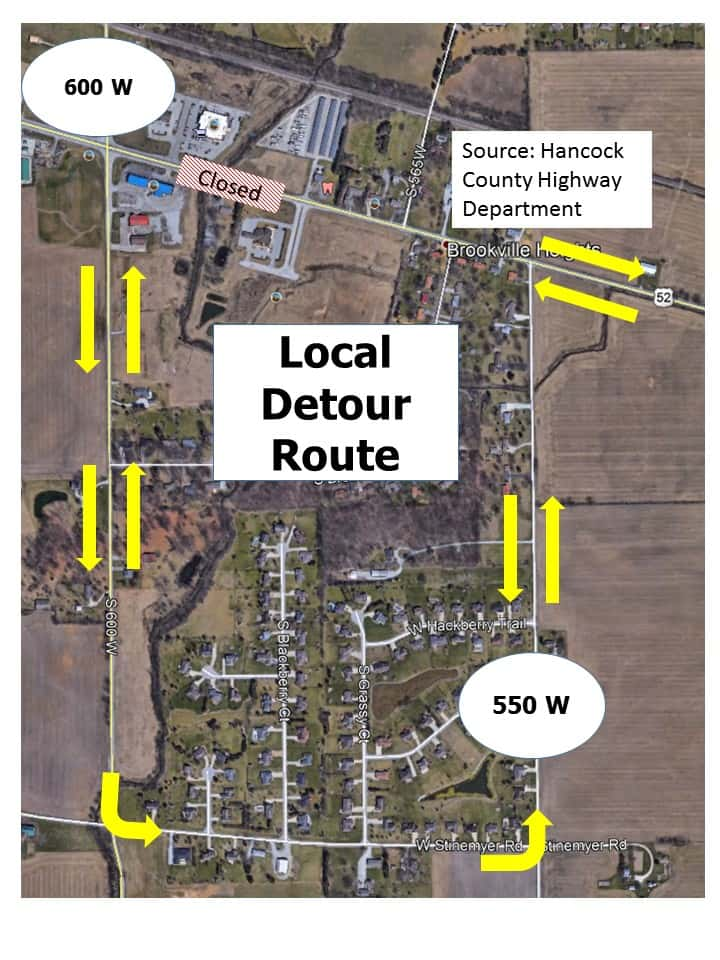 (Photo Credit: Facebook/Newpalopen4biz)
The local detour includes C.R. 600 W., W. Stinemyer Rd., and C.R. 550 W.
---
Matt Bair is the new voice of Indianapolis traffic, and can be followed on Twitter @WIBCTraffic.. Fans of Facebook can "like" WIBC Traffic for the latest traffic happenings and occasional frivolity. Tips? Call direct at (317) 684-8134 or the 93 WIBC Newsroom at (317) 637-6397.