Capping off a year that's one exorcism short of an incubus in every bedroom, construction on the north split – the spot where I-65 and I-70 merge on the northeast side of downtown – is scheduled to begin sometime between Thanksgiving and Christmas of this year. The Indiana Department of Transportation (INDOT) says this girthy (but necessary) overhaul will start in "three to four weeks", with ramp closures loosely scheduled to begin in mid-December. The entirety of the project will last until the end of 2022.
I blog this in protest. Any major road construction project starting in the year 2020 is destined to be cursed. You'll believe me when the ramps turn to Jell-O and the bridges grow teeth.
WHY. ARE. WE. DOING. THIS.
The north split is old. Built in the 1960s and overhauled in 2003 (HyperFix, anyone?), the heavily traveled interchange – Indiana's second busiest, in fact – can't safely handle all the new traffic. Also, the 31 bridges in and around the interchange might give out in five years unless they're reinforced or replaced, so there's that. When the project is complete, drivers should have a safer, happier north split, complete with new pavement, healthy bridges, and fewer crashes.
This is the plan.
"Bye" to the "Big Weaves"
Legacy improvements to the north split include the elimination of the "big weaves", or those dash and duck spots where many a fender-bender and sideswipe occur. The two prominent "weave" spots are on southbound I-65 at the Meridian St./Pennsylvania St. exit, and on northbound I-65/70 approaching the north split.
Both areas are manic.
Well-intended drivers shouldn't have to negotiate multiple lanes in less than a quarter of-a-mile at a 60 mph clip to make their exit. It's not right. I almost lost an arm near Meridian, but that's what I get for hanging my produce out the window.
A new lane configuration and the elimination of certain access points should drastically reduce the number of crashes once construction ends. The upgrades should come as a relief, and we'll detail the definitive changes in the coming weeks. For now, check out the North Split Upgrade website. It has the stuff.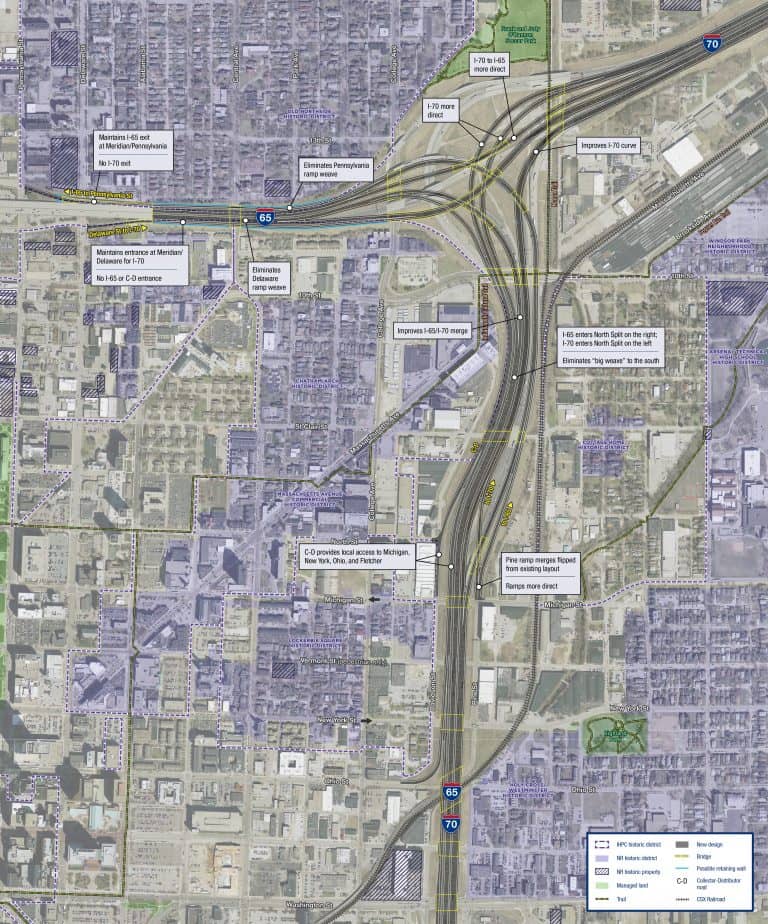 (Photo Credit: INDOT)
Closures… What's First??
The southbound I-65/70 collector ramp – or local ramp to Fletcher Ave., Michigan St., and Ohio St. – is the only slice of interstate that will experience a ramp closure early on. When construction begins, the collector ramp will close south of Ohio St., eliminating access to Fletcher Ave. In addition, the ramp to Michigan St./New York St. will close for one year (until late 2021).
Map me up: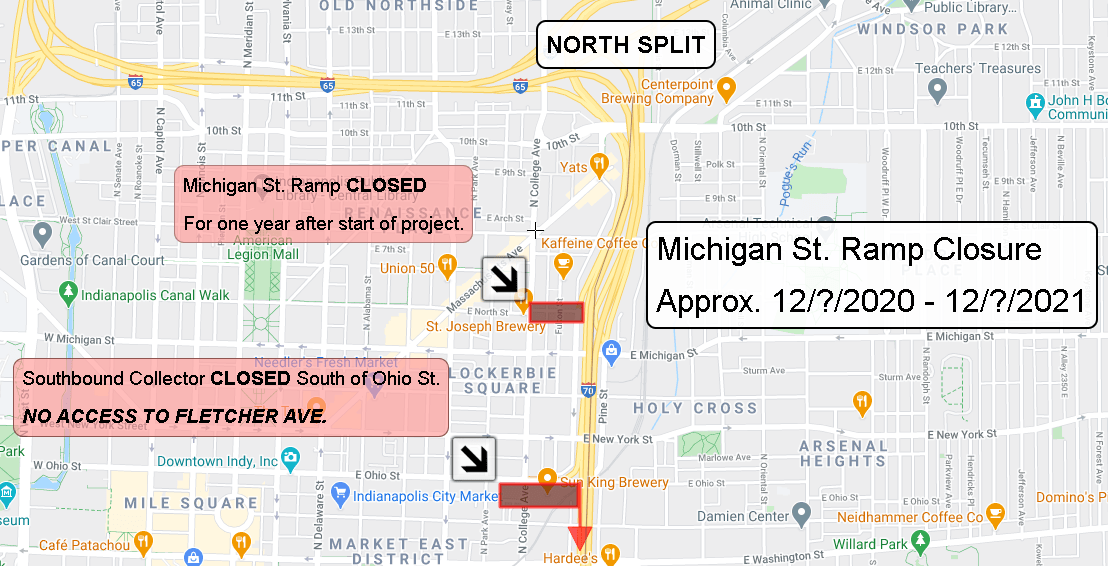 Once the ramp to Michigan St./New York St. reopens, the exit to Ohio St. will close – also for one year (approx. late 2021 – late 2022). Access to Fletcher Ave. will continue to be restricted.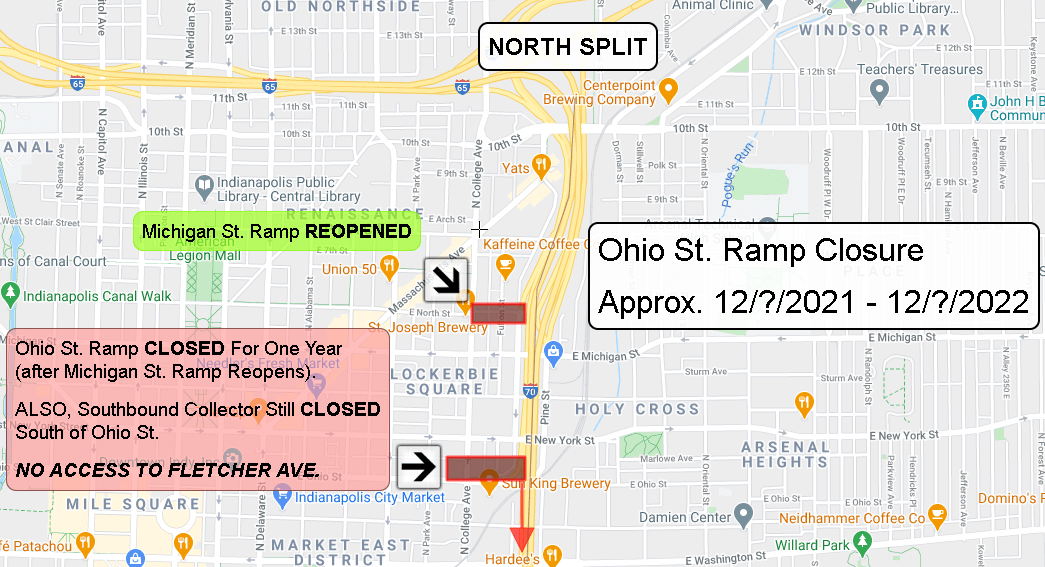 For the column of small victories, the on-ramp from Pine St. (Michigan St.) to northbound I-65/70 and the off-ramp from westbound I-70 to the southbound I-65/70 will stay OPEN.
In addition to the ramp closures in the collector, please expect different lanes to be restricted at different times during the length of the project. We'll call 'em out at @WIBCTraffic. Follow along for the latest.
COMING SOON, May 2021!!
Yeah, this is a toughie. Beginning in mid-May, 2021, both directions of I-65/70 will CLOSE from the north split to Washington St., and vice versa.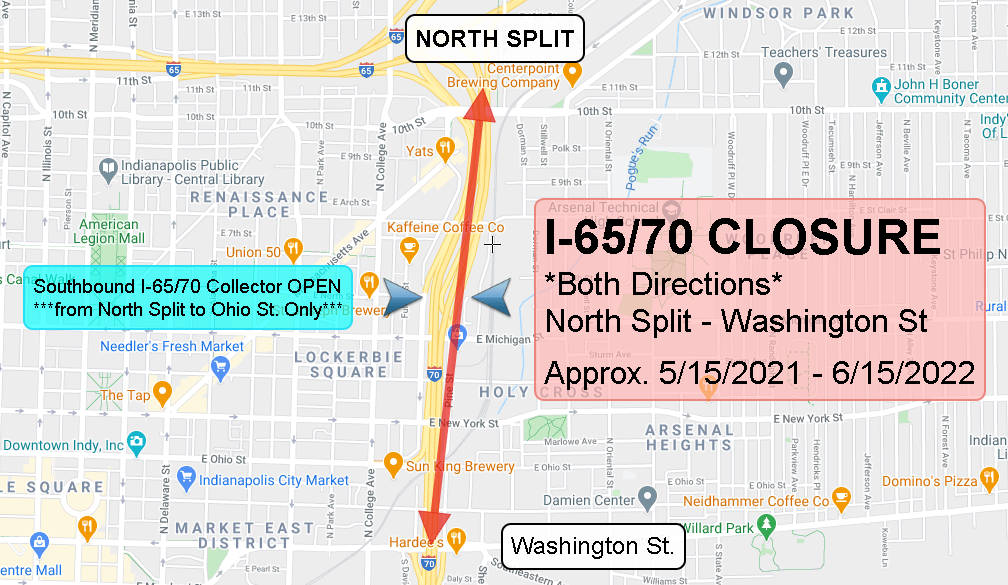 This will seriously ruin east-west traffic in Indianapolis, whether you're shipping or going to the airport. The popular reroute will be I-465, and by popular, I mean expect heavy delays on the loop, especially if traffic patterns return to a post-COVID level. Also, city streets will be congested downtown and on the near east side due to traffic rerouting through the city.
It could get really sloppy, depending on what lanes are restricted in and adjacent to the north split. Speaking of…
Where the Streets Have No Shame
North Split construction will affect traffic on the city streets around the interchange. Some highlights:
Delaware St. will close north of 10th St. (under the bridge) for about 45-days for overhead bridgework. We'll shout when we have an exact area and time.
Other streets around the interchange will close while the bridges get replaced. INDOT says the streets will not be closed for more than 90-days, and contractors are not allowed to have streets next to each closed at the same time. For example, College Ave. and Central Ave. can't be closed simultaneously, and neither can Vermont St. and Michigan St.
***Just a thought… New York St. and Michigan St. are separated by Vermont, so technically the two one-way streets could be closed at the same time. They wouldn't, right? Surely…
Washington St. and Pennsylvania St. will stay open through the project, but you can expect lane closures at certain times. Per usual, we'll let you know when and where.
---
We won't leave you hangin'. Keep checking back here and on Twitter at @WIBCTraffic for updates on street closures and other little unpleasantries that are certain to pop up during such an elaborate project. There are moving parts galore, and a decent amount of ambiguity on what's closing and when – especially on the streets.
And during construction, please, please be safe in work zones. People are out there grinding for us. Let's send them home safe.
Thanks.
-Bair
---
Matt Bair is the new voice of Indianapolis traffic and can be followed on Twitter @WIBCTraffic. Fans of Facebook can "like" WIBC Traffic for the latest traffic happenings. Tips? Call direct at (317) 684-8134 or the 93 WIBC Newsroom at (317) 637-6397.