I-70 in Hancock and Henry Counties has slipped into a vehicular graveyard. All that's left are rusted out PT Cruisers – homes for exotic animals that escaped from the Greenfield zoo since "the reckoning", or Judgement Day, or the day the construction barrels dropped from the Greenfield Rest Area to Knightstown. I was driving to Hoosier Gym and saw a man eat another man's head. They're cannibals out there, feeding off the dust and rot of the former I-70 corridor. Play your guitar in a hockey mask and flames shoot out of a modified organ on the back of your semi, one that probably wrecked with several other semis near S.R. 109.
Two men enter, one man leave. All we want is life beyond…
Imagination running wild? Possibly, I'll check with my head shrinker. This has been a meat grinder of a construction zone this summer, one that's dismantled sometimes two semis…
I-70 CLOSED‼️💥Knightstown, eastbound I-70 is CLOSED before S.R. 109 because of a crash involving two semis.

Traffic jammed to S.R. 9, Greenfield.

Exit early at Mt. Comfort Rd. (Exit 96) and use eastbound U.S. 40. @93wibc pic.twitter.com/u70zSXrCAb

— WIBC Traffic (@WIBCTraffic) July 20, 2021
Sometimes three semis…
I-70 CLOSED‼️💥Knightstown, eastbound I-70 is CLOSED at S.R. 109 because of a crash with THREE SEMIS. Crash is under a bridge – traffic is being diverted at S.R. 109 (Exit 115)

Exit at Mt. Comfort to link up with U.S. 40. Exiting at S.R. 9 (Greenfield) puts you in construction. pic.twitter.com/auyG5PYCyC

— WIBC Traffic (@WIBCTraffic) July 28, 2021
And because I lost the tweet detailing the four semi crash, here's another with just three…
I-70 CLOSED‼️💥Hancock to Henry Co., eastbound I-70 is CLOSED between S.R. 9 and S.R. 109 because of a crash with THREE semis (MM 109).

All three will have to be towed.

Traffic stopped past the Greenfield rest area. Exit early at Mt. Comfort Rd. (Exit 96) and head for U.S. 40 pic.twitter.com/zUMOoINUXy

— WIBC Traffic (@WIBCTraffic) August 3, 2021
It's been worse than that. Traffic can take hours to clear out after the interstate reopens following aforementioned crash, not to mention vehicles can either break down or run out of gas while stuck in the abyss. That doubles the fun, and could jump start your post-retirement career as a land baron adjacent to the Greenfield Rest Area. Think of it, you can harvest lot lizards into your golden years.
I suggest keeping your tank half full if I-70 in Hencock (that's Henry with Hancock County, FYI) is a daily route you're forced into (or maybe not, given the price of gas). Regardless, please don't call 911 if you're stuck in a delay, unless it's a medical emergency or some other 911 reason to call 911.
Yes, this is a thing.
❗ I-70 Info ❗ There was a crash at MM 113 EB that has been cleared over an hour ago. The road has been open and traffic is just waiting to get thru the construction zone. Please don't call 911 to report stuck in traffic 📲

— Hancock County 911 (@HancockIN911) September 9, 2021
So here's what it is. I-70 in Hancock and Henry counties is down to one lane in each direction, while sharing the eastbound side of the interstate. The work zone itself spans a total of 15-miles, from S.R. 9 (Exit 104) to Greensboro Pike.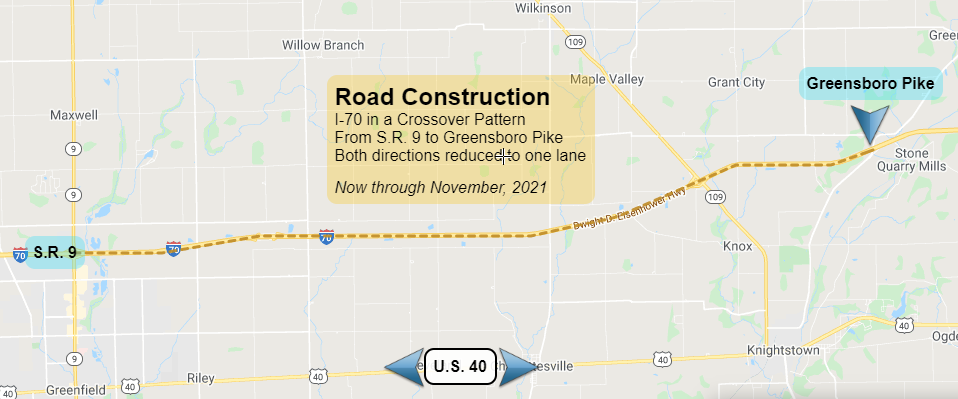 When oh when does the bedlam end, you ask? Construction is expected to last through November of this year, if the weather plays nice. In the meantime, drivers will continue to reroute on U.S. 40.
The OTHER Construction Zone
It hasn't been as animated as I-70 in Hancock/Henry counties, but the delays have been just as brutal. I-74 from S.R. 244 to east of London Rd. is still under construction. The cost of gas plus any gambling debts acquired at the Shelbyville casino make the trip well worth it if money is burning a hole in your pocket.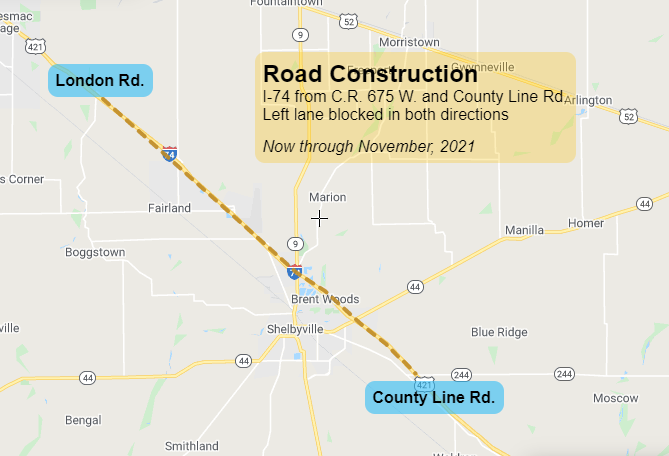 I-74 construction near Shelbyville is expected to continue through November.
Construction on Top of Construction, then Construction
The north split closure – or I-65/70 between Washington St. and the north split – continues for another 15-months, not to mention a bonus closure coming up in the fall, or the 45-day shutdown of the ramp from southbound I-65 to eastbound I-70. So yeah, it's going to get worse before it gets better.
Always want to leave you on a positive note. Until next time.
-Bair
Matt Bair is the new voice of Indianapolis traffic and can be followed on Twitter @WIBCTraffic. Fans of Facebook can "like" WIBC Traffic for the latest traffic happenings. Tips? Call direct at (317) 684-8134 or the 93 WIBC Newsroom at (317) 637-6397.