As you know, Indiana and Indianapolis (Marion County) have initiated separate strategies for reopening restaurants, massage parlors, gymnasiums, and other business types, placing Marion County residents and the rest of the state on an Avengers style alternate timeline to normalcy. If I understand this correctly, and I'm sure I don't, restaurants can reopen this Friday at 50-percent capacity with outdoor seating only. As a bonus, and to really sugarcoat the proposition of dining in the crisp city air and eating next to a jersey wall, several downtown streets are closing to make room for more outside tables – six feet apart, of course. Restaurants looking to make extra bank can expand outdoor seating provided their papers are in order. All we have to do, as guests, is keep our distance from one another and not show up in groups of more than six.
A complete list of rules and regulations is here for your consumption.
Finally, you literally get to eat on Illinois St., or have a romantic rendezvous for two in a Mass Ave. Parking lot. Eat off the curb? Pick out a winner. The bus stop is already at capacity, so move along.
Here are the streets that are closing:
Broad Ripple Ave. from College Ave. to the Monon Trail
Georgia St. from Illinois St. to Pennsylvania St.
Illinois St. from Georgia St. to Market St.
The southern half of Monument Circle
Mass. Ave. from Delaware St. to College Ave.
These closures could remain in place until the July 4th weekend, when the licenses expire.
I'll have maps for dessert:
Mass. Ave. Cultural District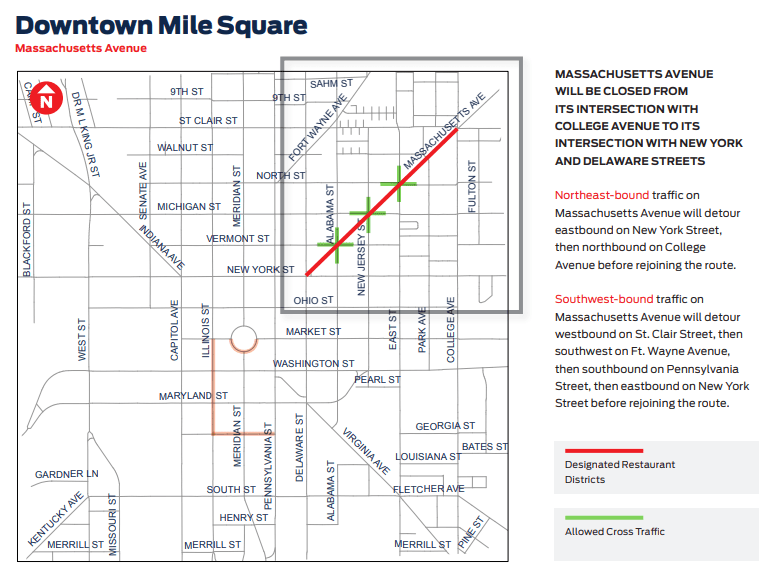 Mass Ave. has closed to vehicular traffic from New York St. to College Ave., eliminating all cars on the street with an exception of the 800 block. That's where you'll find Bottleworks construction, Yats, Mass Ave. Wine, and a bunch of other cool little spots. The 800 block is northeast of the six-way intersection of Mass, St. Clair, and College, or where to closure ends to the north.
It's within walking distance of the entire district (hint, hint).
Since Mass. sits 45-degrees against the rest of the city grid, traffic on two cross streets (instead of one) will be allowed to cross through the closure. Alabama St., New Jersey St., and East St. will be able to pass through Mass. from the north and south. Vermont St., Michigan St., and North St. from the east and west.
This district is one-way heaven, so tread lightly and plan ahead.
UPDATE: The Bottleworks parking spots are still marked off. Hopefully, they'll be available for parking soon.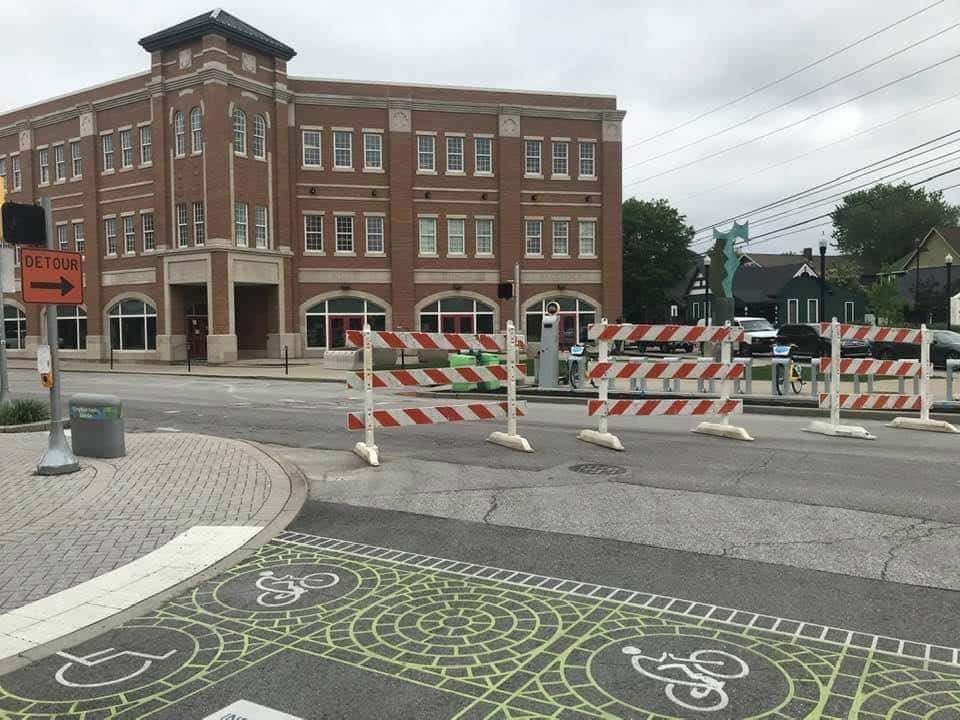 Mile Square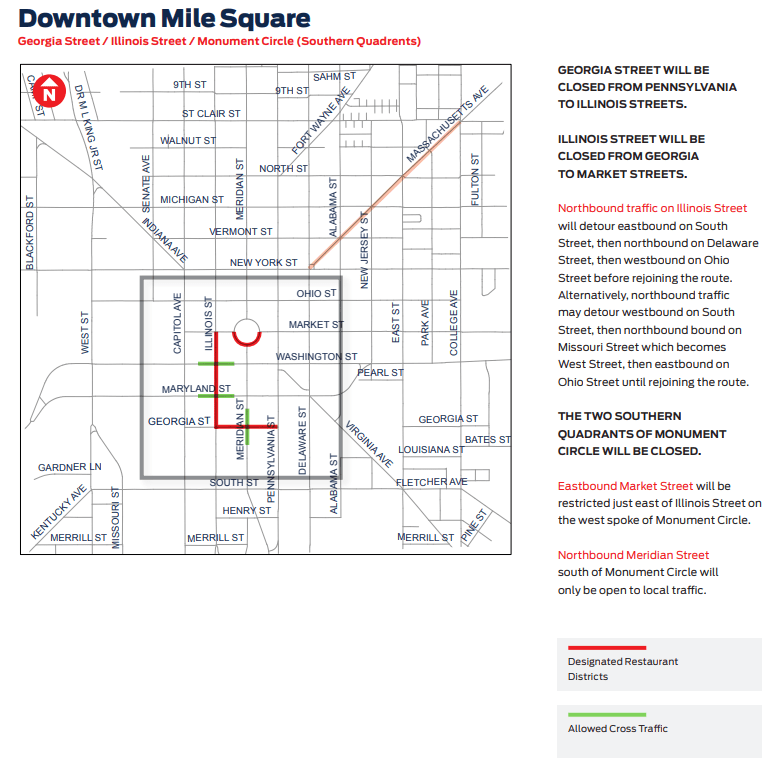 That's a Georgia St. closure from Pennsylvania St. to Illinois St, and an Illinois St. closure from Georgia St. to W. Market St. As indicated by the green lines, Meridian St. traffic is allowed to punch through at Georgia St., and Maryland St. and Washington St. traffic will be allowed to pass through Illinois St.
The southern half of Monument Circle will also be closed. Since the Circle only flows counter-clockwise, the western spoke, or W. Market St., will need to be restricted inbound to the Circle (see map notes above). The southern spoke, or S. Meridian St., will be open to local traffic only.
Like Mass, several streets around Monument Circle are one-ways, so familiarize yourself with the area before heading in.
***UPDATE: Illinois St. is now closed.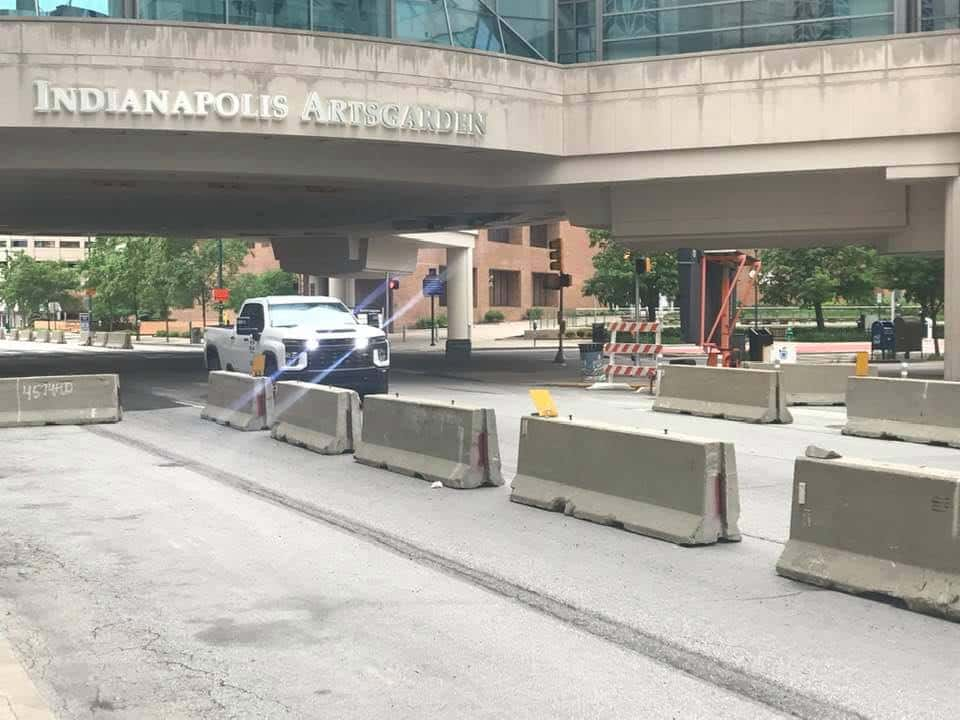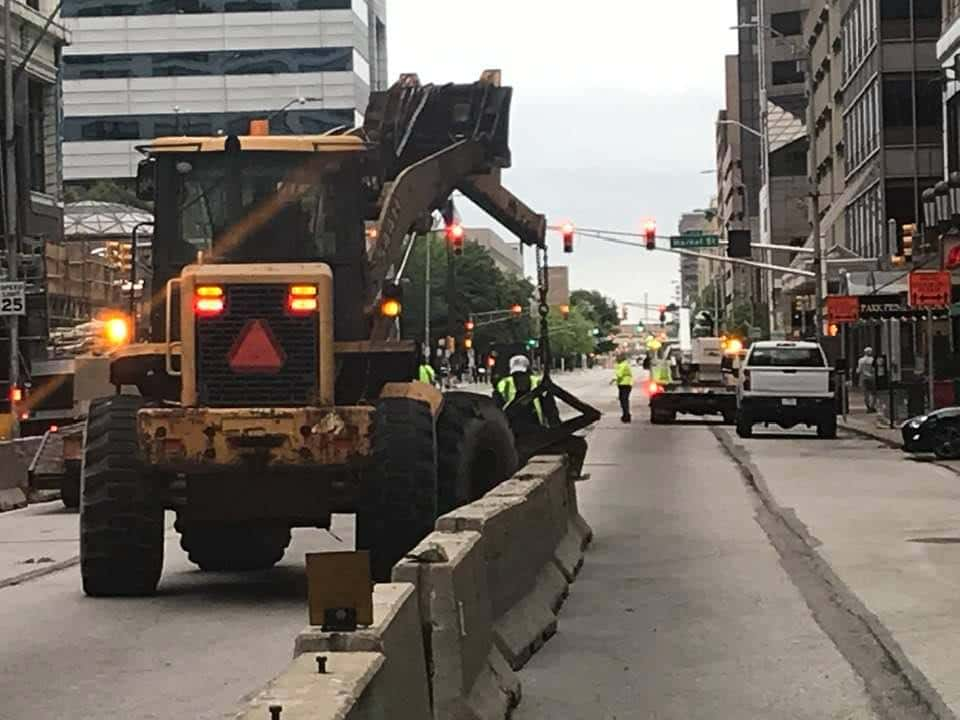 Photo quality is low because I lost my Polaroid camera.
Broad Ripple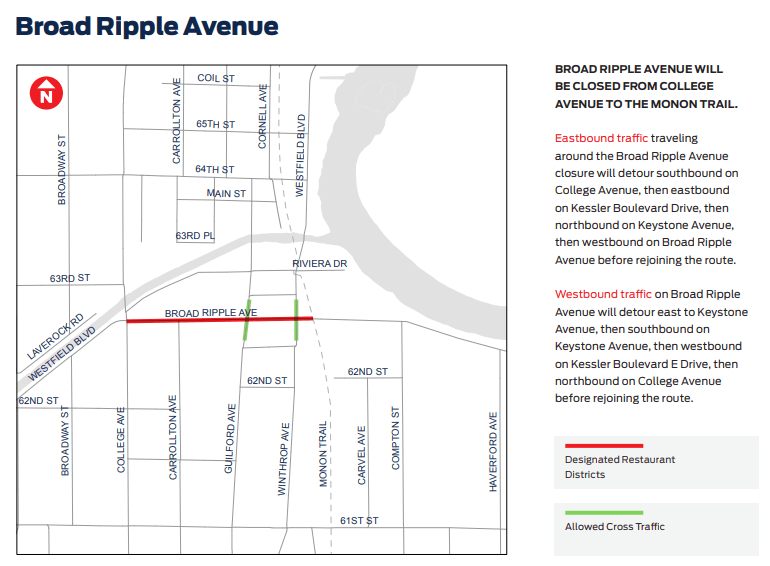 Broad Ripple Ave. will close from College Ave. to Winthop Ave., restricting vehicular traffic on the eastern portion of the district. LOTS of potential for outdoor seating through this stretch, with Kilroy's, Einstein Bros. Bagels, and Brothers (to name a few) all running adjacent to Broad Ripple Ave.
In the case of Brothers – or any bar that serves food, or a restaurant that has a bar (whichever you prefer) – serving liquor to customers seated outdoors is permitted if the establishment has an existing liquor license. Uber in, drink and dine, Uber out. Simple.
---
Parking
Downtown Indy, Inc. has a handy little interactive map that's particularly useful in helping diners choose a nearby parking garage. FlexePark may be the way to go for those cruising Mass Ave. or Fountain Square. You can also park a few blocks away from your destination and use Indiana Pacers Bikeshare – a bicycle ride share program that should be utilized and adored by all.
Here's the thing. Parking in these areas isn't easy under normal circumstances, so initiate your born and bred Indianapolis 500 race day travel instincts ahead of time. Plan ahead, leave early, and be patient.
BUT the real question is if I dine next to a parking meter, will I still have to pay since I might be in a space?

— Bill Remeika (@BRemeika) May 21, 2020
Great question, Bill. Great question.
The ambiance will be exquisite.

Any chance they ran the street sweeper through there?

— Ehren Lohrmann (@FortKnoxPulling) May 21, 2020
We can only hope.
---
The reopening of our shops, services, and restaurants has confused the daylights out of me, with all this talk of capacity, travel restrictions, essentials, not being able to eat inside, etc. It feels like there's a lot of caveat to this multi-teared system, and even though Governor Holcomb has mule kicked Indiana into stage three, I'm not entirely sure what stage three is.  Please remind me before my brain oozes out my nostrils. Please. I need you. SOS.
Luckily, an imaginary friend slipped me the rest of the forthcoming guidelines before publication. Consider this a sneak peak:
Parking your car is permitted after June 1st. You must continue to loop on I-465 until then.

Gas stations will move all diesel fuel pumps into the convenience store lobby. This will allow for additional outdoor seating. 

Biking in the bike lanes is still allowed, providing your tires are under 50-percent capacity and you only ride with one tire.

Uttering the name of a closed downtown street will demote the resident back to phase one, meaning twenty-five rolls of toilet paper must be maintained per household member at all times. You're also required to keep two-thirds of your doors locked. 

Full toilet flushes are now allowed, as long as the bowl is under 25-percent capacity after usage and the toilet is near outdoor seating. A permit is required. 

Benches on the Monon Trail will be converted to outdoor seating for restaurants on Illinois St. Servers will be offered an IndyGo discount. 

Hair salons may reopen with outdoor seating only, providing they've obtained a food service license.

A doughnut tire must be maintained in all passenger vehicles, and must be six feet from all four sides of the trunk. If the vehicle exceeds 50-percent capacity, a passenger must hang half their body out the driver side window during travel.

School will resume in the fall, but classes will be taught outdoors while abiding by strict social distancing guidelines. The street adjacent to the main entrance of the school will be closed to students unless they apply for a permit or become essential workers. 

Non-essential workers can resume driving the speed limit, provided at least one mile of I-70 is under construction (you're good through the summer).

Drivers must apply for a permit in order to park six-feet or closer to a parking space reserved for the now-defunct Blue Indy. The city reserves the right to take full possession of violating vehicles and convert them into electric buses.

Blue Indy parking spots will be converted to Red Line charging stations.
***Addendum: Storing more than 25 roles of toilet paper requires a permit.
(Full disclosure: these are not real).
---
Matt Bair is the new voice of Indianapolis traffic, and can be followed on Twitter @WIBCTraffic. Fans of Facebook can "like" WIBC Traffic for the latest traffic happenings. Tips? Call direct at (317) 684-8134 or the 93 WIBC Newsroom at (317) 637-6397.