WIBC host Tony Katz uncovered background information on the man suspected of killing a Capitol police officer in an attack on Good Friday.
WASHINGTON—Noah Green has been identified as the man who rammed the barricade at the US Capitol on Friday, killing US Capitol police officer William "Billy" Evans and wounding a second officer. Green, according to court documents, was from Indiana.
A search of court records shows that a Noah Ricardo Green petitioned the state of Indiana to change his name. According to the publicly filed documents, Green filed the name change in the Marion County Circuit Court on December 18th, 2020. The address listed is in Indianapolis, IN.
The 'Petition for Change of Name Filed' took place on Dec 18th, with an 'Appearance' filed on December 21st, 2020. On January 6th, 2021, an order was issued by judicial officer Susan Boatright. The order required Green to provide his current identification, a birth certificate and publication of the name change in a public newspaper, along with other requirements.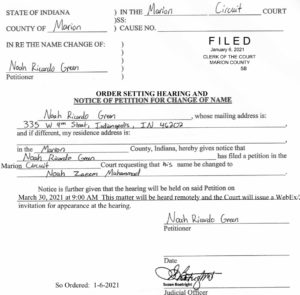 The 'Order Set for Hearing,' also on January 6th, states that Green, "…has filed a petition in the Marion Circuit Court requesting that his name be changed to Noah Zaeem Muhammed. Fox News has reported that Green identified himself as a Nation of Islam follower on Facebook, and that he had donated $1,000 to the Nation of Islam. – https://www.foxnews.com/politics/live-updates-capitol-locked-down-armed-suspect-in-custody
The hearing was scheduled for March 30th, 2021, but was dismissed by Boatright. According to the 'Order of Dismissal,' the petitioner, Green, "did not appear for hearing on the Verified Petition For Change of Name, filed December 8th, 2020. The Publication was not filed in this matter. Documents to support the Petition were not filed for the hearing. Petitioner did not file a motion for continuance."
It continues, "This matter is dismissed, without prejucide. This case is closed. So ordered, March 30, 2021."
The motive in the attack is still unknown at this time. WIBC will continue with updates as warranted.
CASE NUMBER – 49C01-2012-MI-044725